Weddings are not cheap but don´t think that the more you spend the better the wedding. We´ll help you to focus your budget where it counts and we like everything to be crystal clear from the very start. Here you will find a list of the main suppliers and their prices who contribute their invaluable services to weddings here in Nerja. On each venue page you will find a link to a sample budget for that venue including suppliers, tax etc. This gives you an accurate timeline for the run of the day and the total cost for a typical wedding in that particular venue.
The three most important parts of the wedding day from your guests perspective are food, drinks and music. They also take up a large part of the budget so I´ve listed these first. All prices are in Euro.
Please contact me to assist you further with your personal budget. I will always endeavour to keep the prices as low as possible to make sure you get the best value for money. Most of the suppliers that I use are local and they both appreciate and rely on your business, as do I.
SERVICE Prices in euro / approx
Food and drink for reception
During the drinks reception guests are served free flowing drinks and canapés or tapas. During the meal, again drinks are free flowing and guests are served a starter, main course then the wedding cake is usually served as a dessert with tea and coffee. The meal usually lasts approx 2hrs including speeches which usually last 20/30 mins and are normally before the meal commences. You will try the menu and wines on your 2nd visit.
Drinks reception after the ceremony with canapés from 14€ per head for 1 hour. Many venues include this in the overall menu price.

3 course meal incl wine, local beer, water, soft drinks, tea/coffee & wedding cake & glass of cava for speeches. Menu prices vary depending on venue (see venues page) and dishes, from 59,95€ to 100€ per head, including drinks reception with canapés. Children´s menus vary from 23€ to 37€ per child.

Our venues offer both Traditional Spanish menus and British/ Irish options.

Private disco from 23.30 to 03.30/04.00 prices vary, many venues request a minimum bar spend from 1200€+ but some include the Dj in this price.
Pay deposit to book, from 600€,  cash/visa/bank transfer & remainder afterwards.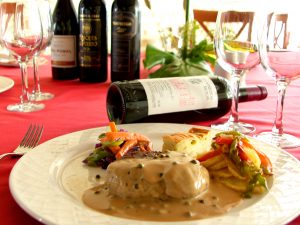 Music for ceremonies
We have a long list of incredibly talented, classically trained musicians and singers for the perfect ceremony. You can also use the venues music system if you´d rather play your favourite piece of music.
Female Solo singer from 275€

Classical group: solo violinist, duo, trio, quartet From 180€

Celtic trio: Male voice, recorder, violin & guitar, percussion (Irish / Celtic influenced ) 350€

Guitarists from 240€




All Pay on the day in cash. No deposit.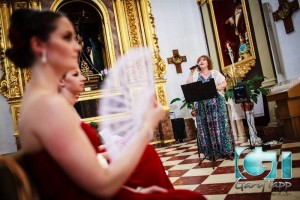 Music for dancing
Lively bands, solo artists, saxophonists, MC´s and DJ´s to keep the dance floor full. Musicians, singers, bands usually play for 2hrs and DJ´s play for 4hrs. We will send you their contact, Facebook page and You Tube details so not only can you see and hear them perform you can also discuss with them what music genres you like and don´t like.
Range of musicians:  Solo singers to Bands, from 60´s music to present/ Irish / Rock – From 300€ – 1750€

DJ´s from 350€

Flamenco dancers (half hour show) 250€.

Other musicians such as Rat Pack, Motown or acoustic bands are also available – we have many options and links to send you.

Pay all on the day, in cash. NO deposit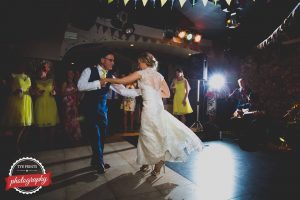 Photography/ Video

Photography is hugely important to many couples and we have some excellent photographers and videographers in our contacts list. Their day starts with snaps of the bride  & bridesmaids, groom & groomsmen getting ready they then will get to the venue for the ceremony, drinks reception and the meal. He or she will usually finish after the first dance. They will take you away from your guests only for brief periods of 10/15 min during the drinks reception and later just before dark to get those romantic shots.
CD rom of ALL photos taken From 950€

Album from 1450€

DVD 695€ (fully edited, inc master copy)
Pay all on the day in cash
Creche and babysitting
If you are inviting children to the wedding it´s a good idea to have entertainment for them. Particularly for small children who must be kept safe from any hazards. The creche can be arranged at any venue and the girls will make a play area where the parents and children can easily see each other. The kids can play together and eat their meal together in a fun environment whilst never being more than a few steps away from mum & dad. The creche organisers can also be hired for babysitting by the the bride & groom or the guests for the night of the wedding or at any time during your stay.
Wedding day creche for up to 10 children 300€

Babysitting service 15€ per hour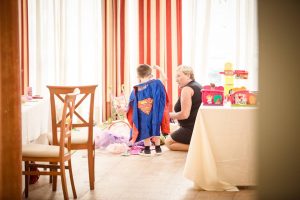 ---
Wedding day transport
To move your guests to and from the venue we use 55 seater coaches and 16 to 24 seater minibuses. The bridal party often use the Mercedes minivan. The groom and his groomsmen arrive at the venue ahead of the guests to welcome them and show them to their seats. Once the guests are seated the bride, her father and bridesmaids can make their grand entrance.
Mercedes minivan 7 seater 50€ for 1hr

Powder blue Volkswagen Beetle from 250€

Decorated Horse & carriage From 150€

Wedding day coach (55pax), if chosen venue is outside of Nerja centre. From 150€ for 55 seater coach.




To be paid by cash on the day. No deposit.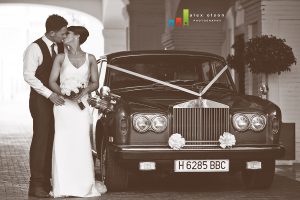 ---
Flowers

As our local florist speaks very little English, I will accompany you to talk flowers at her shop on your 2nd visit. Don´t worry if you don´t know anything about flowers. She has hundreds of photos to give you inspiration if needed and can provide the ceremony decoration, bouquets, buttonholes and the table centre pieces for the venue. She can also provide extra decorations like fairy lights, chair sashes, centre piece holders, lanterns etc.
Bouquets for bride (bridesmaids slightly smaller 75% cost approx) From 60€ – 150€

Button holes for close family, groomsmen etc.. From 3€ – 5€ each

Floral arch from 180€, pew ends from 3€ each, carpet 50€, altar table flowers 25€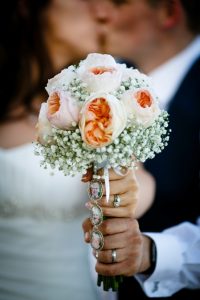 ---
Celebrants
We have a list of celebrants that offer personalised blessing ceremonies, tailor made to suit you. You can have a Cristian ceremony performed by an Anglican chaplain or choose a celebrant to make your own ceremony. They are all British/ Irish so you can discuss freely with them your ideas.
For venue blessings
Anglican Priest 400€

Non religious celebrant 400€




Pay on the day in cash. No deposit.
---
Traditional Wedding Cake
All our venues provide a Spanish wedding cake in their menus. A Spanish wedding cake is light and deliciously creamy, like a gateaux  but if you´ve always dreamed of a tiered, iced cake or cup cakes, cheese tower, naked cake or what ever you like. No problem.
3 tier iced and decorated cake from 295€




Pay on the day in cash. No deposit .
Or venue cake included in menu price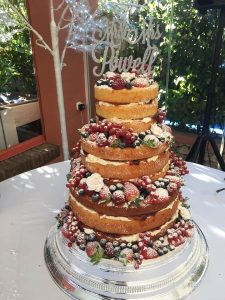 ---
Hair / Makeup
Local, professional stylists and make up artists will make you look and feel incredible. The bride & bridesmaids usually start to get ready here at 11/11.30am so no 7am starts here. You can go to the salon in Nerja town centre or have the team come to you at your accommodation.
Hair for Bride incl trial 140€




Bridesmaids and guests from 45€.

Makeup for Bride incl trial 105€

Makeup for bridesmaids and guests 35€
Pay on the day in cash. A small holding deposit my be required
Can also arrange, facials, manicures, pedicures, spray tans, massages, false eyelashes, etc.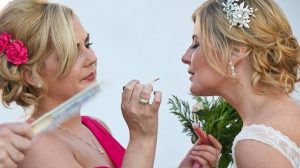 Extras
If you´d like hand fans, freshen up kits, wedding gown steaming please see our extra services page. Signs, Table plans, printed paddle fans, photo call, banners etc..
Plain or Personalized hand fans 1,50€/ 2,95€ each

Steaming of wedding gown/ groom suit/ bridesmaids dresses 60€ to 100€/20€/15€

Chair covers, menus, table centre piece flowers, usually included in the menu price

Fairy lights and candles, lanterns, bird cages etc prices vary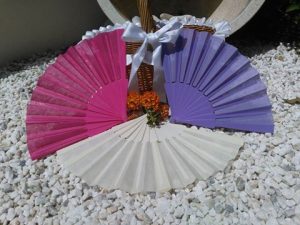 Wedding planner fee
Please contact me for information. My fee is all inclusive, there is no limit to the amount of meetings we have or hours I work. I do not charge for a meal for myself on the wedding day, nor do I rely on earning extra income from the suppliers or venues I recommend. I recommend the suppliers and the venues because of the quality of service they offer to you and to me and have been chosen from tried and tested experience. I use local suppliers, and I speak fluent Spanish, so you won´t have to travel far to see a, florist, baker or photographer and you will be able to meet the suppliers in their place of work in Nerja to discuss options and prices directly. You will make up my fee on the savings you get from the suppliers I recommend.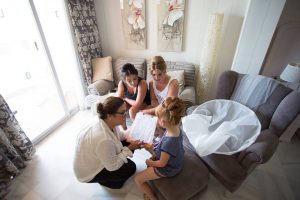 ---
Accommodation
---
Airport Transport