So that I can completely focus on the wedding day, Mat, helps with areas around the day itself. He meets you and shows you our venues on your first visit, offers help and advice on accommodation, airport transfers and things to do in Nerja are covered in his website below. He is perfectly fluent in Spanish and has lived in Spain since 1996. He has the same customer service/ travel background as I do. There is no charge to my clients for Mat´s services.
Tel: (0034) 625 044 218
---
Accommodation
Accommodation is a big part of your plans for your wedding, not only for you but also for your guests who´re often traveling to Nerja for the first time. Thankfully there is something for everyone and to suit all budgets in Nerja whether it´s a plush penthouse or just a bed & a shower in a basic B+B.
From 40€ to 300€ per night
Please visit
http://www.nerjaapts.com
(you can send the web address to your guests as there is no link from this site to pattymagicweddings, so they won´t see the venues etc before the big day.)
---
Transport from the airport
Go to http://nerjaapts.com/transport/transport-malaga-airport/ for information on how to get to Nerja from Malaga airport.
Taxi from airport to Nerja (max 4 people) 70€
Minibus from airport to Nerja ( from 5 to 55 people) From 90€ to 250€ Total to be paid directly to taxi driver in cash.
Public Bus approx 10€ per person
---
Pre or post wedding day get together
Mat can help you organize an informal party or get-together before or after the wedding. Email me for recommendations and info: matpickett@hotmail.com
---
Personalized hand held fans (favours…)
Personalized or plain hand held fans are a traditional and practical gift for your guests.They come in several colours (cream, white, orange, green, yellow, blue and red) they can be personalized with your name, date and place or left plain. They cost 1,50€ plain or 2,95€ for printed. Email : matpickett@hotmail.com
---
Bridal gown/ suit pressing services
If you would like to have your bridal gown/suit steam pressed: matpickett@hotmail.com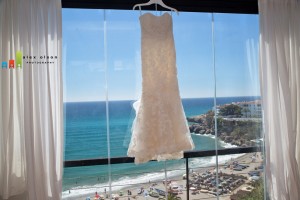 ---
Freshen up kits
Freshen up kits are very popular to have in the venue bathrooms for your guests. Sweets, deodorant, tissues etc. 1x kit (includes 1x men and 1x ladies) =40€
---
Email: matpickett@hotmail.com
Tel: (0034) 625 044 218